PCAS is an ISO 17025 compliant laboratory providing on-site sampling, food analysis, ingredient and nutrition testing since 1992 and is accredited with the State of California and audited by the Food & Drug Administration (FDA). With over 10,000 customers served, PCAS has the experience, knowledge and staff to deliver high quality analytical results and unparralled service. All work is done in-house and meets all FDA food labeling requirements.
PCAS uses an industry leading LIMS (Laboratory Information Systems) platform to manage samples electronically from start to finish. Advanced equipment and technology is used throughout the entire process and overseen by knowledgeable and well-trained staff. From secure sample collection containers to sophisticated protein analyzers, ICPs, HPLCI, GCs, and autoclaves, PCAS labs has made a significant investment in state-of-the-art lab equipment in order to deliver accurate results in a timely manner. Take a Tour of the Lab.
Guaranteed FDA Compliance
PCAS ensures the accuracy and precision of results by following a comprehensive Quality Assurance (QA) Program based on the ISO 17025 standard. We provide nutrition labels meet FDA, USDA, and AAFCO standards for food labeling.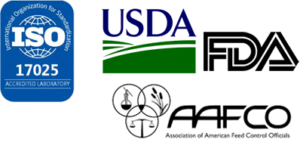 ---
Over 10,000 customers served since 1992
---