FDA COMPLIANT FOOD NUTRITIONAL ANALYSIS AND FDA COMPLIANT LABEL FOR YOUR FOOD PRODUCT
Our turnaround time is approximately 10-15 days from the time that our lab receives your samples.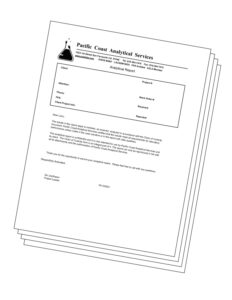 Every retail food product must display a FDA compliant food label. Some products can be done by recipe, but not all retailers approve this type of labeling, and the physical testing is required. When submitting your sample to our lab for a complete analysis of your products, we will need to have a list of ingredients and recipes. Disclosing this information is completely safe and PCAS backs this up with a NDA kept on file to protect your interests. Does my product need to be tested? Any food product that is brined, marinated, fried, fermented or brewed will often need lab testing. Some products labels can be created using our database, but we can walk you through each step to ensure you are 100% FDA compliant.
What is required by the FDA? The FDA compliant label must include: Calcium, Calories from Fat, Total Calories, Total Carbohydrates, Cholesterol, Trans-fat, Saturated Fat, Total Fat, Dietary Fiber, Iron, Protein, Sodium, Sugars, Vitamin D, Potassium, Ash and Moisture. With each laboratory analysis you will receive a completed lab report along with an FDA compliant Nutrition Facts Label.
We are experts in guiding all of our clients through this process. Call or email us today. Doing this of over 30 year ensures 100% accuracy for you. Our experts will talk you thru what is needed for your specific product and provide you with fair price to get your product on the market with accurate, compliant nutritional facts, guaranteed.
Pricing
Each customer's needs are different, so we want to tailor a pricing schedule that meets your specific requirements. The final FDA compliant label is always included, so don't be fooled by other labs that charge for creating the label.
What Is Laboratory Nutrition Analysis?
Nutrition analysis is a process of evaluating the nutritional value of food. It helps to determine the amount of nutrients present in the food. Laboratory nutrition analysis is a more accurate way to measure the nutritional value of food and is used instead of software to determine the actual nutrition components for the FDA compliant Nutrition Facts Panel. This can be done using a variety of methods, including chemical analysis and physical analysis. In general, nutrition analysis is used to help determine the nutrient content of foods for use in the development of an FDA compliant Nutrition Facts Panel.
Nutritional Analysis lets you know the amount of different nutrients that are present in your food. A typical test will cover all the values needed to make a complete FDA compliant Nutrition Facts Label. Do you need to claim if you have an allergen? Ask us what is required or visit our allergen testing page here.
Can I just use the nutritional database and save time and money?
All foods need nutrition facts labeling, but not every product will need to have the physical analysis performed. Several food and beverage products labels can be created in our extensive food database, but we would need to help you determine if this is right for you and your company. PCAS wants to ensure you are getting exactly what you are needing based on your individual company needs. Some retailers to not accept labeling by database and other do. If your food process includes dehydrated, brewed, filtered, fermented, pickled, or brined or we cannot find all of your ingredients, then we must complete the laboratory analysis on your product.
If is verified that we can us our database, we can complete the FDA label creation in just a few days. Again, with this type of label creation, we will need to have a complete recipe of your product(s) that is always protected by our mutual NDA. If you are interested in this type of labeling, give us a call or email us at [email protected]. All of this information can be found on our label by recipe page found here.